Orientation Program for fresh Learners of january 2019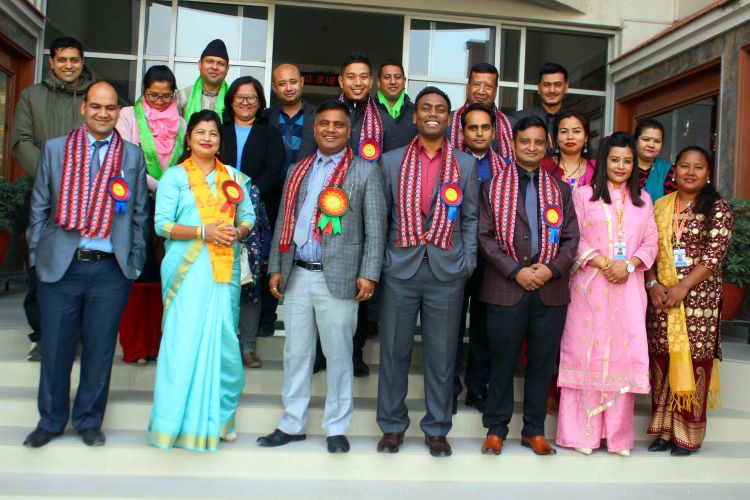 Mar 19, 2019 428 Admin
NIT orientation program for Fresh Learners of January 2019 was held on Saturday March 2nd, 2019 at JETAVAN hall, DAV Complex, Jawalakhel. The program was divided into two sessions: Formal session and Interactional session. The program was started at 8:30am and ended at 1:00pm. After registration and high tea, the fresh learners were given highlights on IGNoU programs and brief introduction about NIT through A/V(Audio/Video).
The formal program was presided over by the Academic Advisor Dr. Manoj Kumar Chaudhary. Apart from the distinguished guests and special invitees, the faculty members of NIT were also present in the orientation program. The learners enrolled in January 2019 for MBA, BCA, BA, BCom and BPP participated in the program. The NIT Co-ordinator Ms. Anita Kasaju Shrestha delivered the welcome address. The past learners of MBA program Ms. Kripa RajKarnikar and Current learner of BCom, Ms. Ashmaa Khatoon shared their experiences with NIT. Similarly, Newly enrolled MBA learners Mr Prajesh Shrestha exchanged his views about his expectations from NIT.
The Chairperson of the program, Dr Chaudhary welcomed the fresh learners by presenting KHADA to the learners. Dr Chaudhary encouraged the fresh learners to take NIT as a new challenge for Academic and Personal growth. With this, the formal session ended.
The Interactional session started with the introduction of fresh learners. The faculty members Mr. Sudip Tripathi (MBA) and Ms. Purnima Rai Kunwar (BDP) highlighted on Learning Module of IGNOU AND NIT. Lastly, NIT Co-ordinator answered the queries of fresh learners during Q/A session. The program ended with distribution of token of appreciation to NIT Volunteers by the Co-ordinator.